'Sintang Dalisay,' an adaptation of Romeo and Juliet set in an imaginary Filipino Muslim community, accompanied by kulintangan music, and choreographed with igal dance, will be performed on Saturday, 8 April 2017 at the GT-Toyota Asian Center Auditorium, UP Asian Center, Diliman, Quezon City. Two performances are scheduled, one at 2:00 p.m. and another at 7:00 p.m.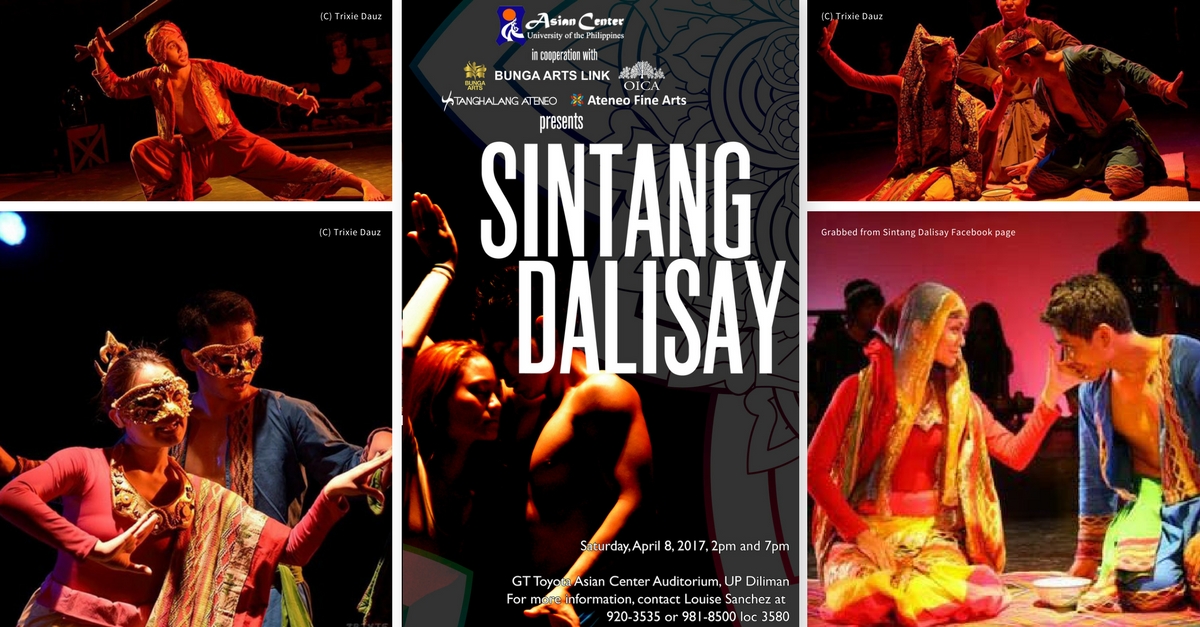 SYNOPSIS
The adaptation is set in an imaginary Muslim community in the Philippines, with the Mustaphas and the Kalimuddins as two prominent families mired in an age-old hatred for each other. Caught in this family strife are Rashiddin and Jamila, two lovers who get themselves secretly married but are forced to separate from each other after Rashiddin, in self-defense, slays a member of the Kalimuddin clan. A demand for justice, Rashiddin's exile to Dapitan, a clandestine tryst between the two lovers, a missing letter and a scheme involving poisonous potions that goes awry culminate in the death of the lovers and the reconciliation of the two families smothered in grief and regret.  
ABOUT SINTANG DALISAY
With a tour version performed in Belarus, Taiwan, and Vietnam, Sintang Dalisay (Pure Love) is based on the awit version of G.D. Roke entitled "Ang Sintang Dalisay ni Julieta at Romeo" (1901) and on Rolando Tinio's translation of Shakespeare's text. While following the general flow of Shakespeare's tragedy, Sintang Dalisay has fewer characters than the Bard's version and infuses the text with a Filipino romantic sensibility. The characters' names have been changed for this play.
Sintang Dalisay is told using dance, song, drama and live music.  All dialogue is in Filipino; the dance is drawn from the igal, a dance tradition of the Sama in South Ubian and Sitangkai, Tawi-Tawi, and taught to the cast by indigenous artists from these places. The music draws from several Philippine indigenous musical traditions yet anchored in the kulintangan rhythms of the Sulu archipelago.
TICKETS And INQUIRIES
PhP 150 (UP Student)

PhP 250 (UP employees)

PhP 300 (Non-UP)*
Tickets may be bought Mondays to Fridays, 8:00 am to 5:00 pm, at Room 105, Hall of Wisdom, GT-Toyota Asian Cultural Center, Asian Center, University of the Philippines Diliman.
Please get in touch with or look for Ms. Louise Sanchez at 920.3535 or emailupacmuseum@gmail.com. VIEW VICINITY MAP and GOOGLE STREET VIEW.
For participants outside UP, they can enjoy UP rates by simply registering online. They can mention the name they used to register upon purchase. Kindly note the UP rates won't be granted unless the name(s) are included in the list.
UP students and employees need not register, and can just present their valid UP ID upon purchase.
AWARDS And PRODUCTION NOTES
Sintang Dalisay was performed in 2012 at the CCP National Theater Festival and hailed by students and teachers in Zambales, Iloilo, and Bohol. It was a Recipient of ALIW Awards for best Non-Musical Production and Best Direction (2012) and brought home seven gold and silver medals from the 3rd International Experimental Theater Festival, Vietnam in November 2016.
The performance text was written by Ricardo Abad and Guelan Varela-Luarca; original production design by National Artist Salvador F. Bernal; music and sound design by Professor Edru Abraham; lights design by Meliton Roxas, Jr. Musical accompaniment is provided by a live ensemble, Kontragapi.
The performance is directed by Dr. Ricardo Abad and choreographed by Dr. Matthew Santamaria, who is also associate director. A member of the Asian Shakespeare Association, Dr. Santamaria is Professor at the UP Asian Center and is an expert on the igal, having published numerous peer-reviewed articles on the topic. 
Sintang Dalisay on April 8 is organized by the UP Asian Center; Tanghalang Ateneo; Ateneo Fine Arts; and the Bunga Arts Link with assistance from the UP Office of Initiatives for Culture and the Arts.
LEARN MORE ABOUT SINTANG DALISAY