MISO 01.06.2015
The National Research Institute of Cultural Heritage (NRICH) of Korea announces the inauguration of the "2015 Asia Cooperation Program on Conservation Science". The 2015 program will invite 10 participants for the training of conservation treatment, research on architectural heritage, art and crafts and archaeology. The highly intensive training program on cultural heritage will be a valuable opportunity for selected participants to attain research and conservation skills for three months with NRICH Korea.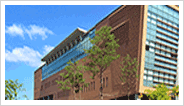 1. Training field : conservation science, architectural heritage, arts and crafts and archaeology
2. Training period 
– 1st group(5 participants) : April 1, 2015 ~ June 30, 2015
– 2nd group(5 participants): August 1, 2015 ~ October 31, 2015
Any person who is under 40 years old and has minimum 3 year experience in national or state instates of cultural heritage as well as with good written and oral communication skills in English (or in Korean) can apply to the program. 
Deadline of the application is on February 6, 2015.
Download the application form and send your application to acpcs@korea.kr.